SuperHero Mission Statement:
The SuperHero Street Fair's mission is to recognize individuals and organizations throughout San Francisco for their outstanding contribution to the arts, environment, and/or community action, and to have a day of music and cultural celebration welcoming all people of San Francisco and beyond. The location of the festival is a vibrant neighborhood full of visual artists, musicians, performers, and community activists who call the Outer Mission/Bayview neighborhoods home. SuperHero provides a platform to showcase the achievements of these people and enjoy a day of celebration and community, with the creativity, wonder, and playfulness that the "SuperHero" theme brings. Each of us have childhood memories and adult aspirations of superheroes, and there is a universal thread that connects this human ideal. Here is the chance to recognize real life superheroes and to find and have fun with the ones in your imagination and those created by others. Enjoy San Francisco at its finest: purpose, celebration, costumes and music. We also work to create a conscious framework to reduce our environmental impact. We had 80%+ waste diversion in each of our previous years and continue to put our efforts towards doing even better.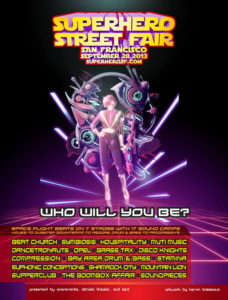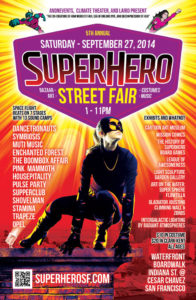 The SuperHero Festival highlights include art exhibits, vendors, sporting activities including extreme sports demos, climbing walls open to the public, multiple stages with live and electronic music, SuperHero exhibits, and our SuperHero awards ceremony recognizing individuals and organizations for their "SuperHero"-like contribution to the arts and community. Ceremonies include the Mayoral proclamation of "SuperHero Day" in San Francisco.
A portion of the proceeds from the festival benefit the recipients of the SuperHero awards for their achievements. The organizers and close friends of the SuperHero Street Fair have cleaned up and help maintain the area around the festival, and have done so since the festival began in 2008. This includes landscaping (removing overgrown vegetation, helping plant trees and laying wood chips), painting over blight, garbage removal, and more. We have lived in the neighborhood for over 15 years and help maintain, and will help keep improving, the festival site.
SuperHero has sound camps from San Francisco and Burning Man, extreme sports demos, exhibits, incredible staging and lighting, vendors, food, and amazing acts. You still have plenty of time to get your outfit together for this year. We look forward to seeing you there in a cape, a mask, dressed up as yourself or your alter ego, and a smile. Up, up and away!