Since leaving our space at 285 Ninth Street, Climate has produced a number of events around the world including the award winning I Hate Children Children's Show which has been one of the top rated shows at the Edinburgh Festival Fringe (the biggest fringe festival in the world) for the past five years as well as Dark Kabaret, Twisted Cabaret, Devil in the Deck and a number of other projects.
Here is a small sampling of some of our more exciting projects:
---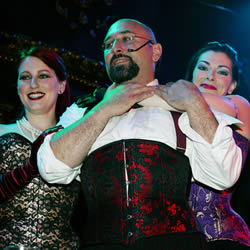 Dark Kabaret – http://darkkabaret.com. San Francisco – 2000 to 2013
Dark Kabaret is San Francisco's biggest and best cabaret variety show with guest stars including Eric Burdon and George Clinton as well as Anne Magnuson, amy Lavere, and Athena Turgis.
---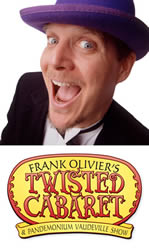 Twisted Cabaret – http://twistedcabaret.com. San Francisco – 2000-14, Glastonburry, UK – 2002-13, Seattle – 2012, 13. Twisted Cabaret is a one man show starring Frank Olivier. The show tells the story of of a show were nothing goes right though it's really a vehicle for Olivier to demonstrate a wide array of variety skills. Frank throws knives, juggles, reads minds, eats fire, and so much more.
---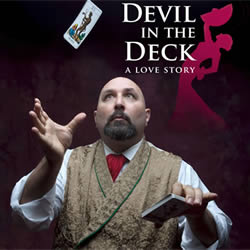 Devil in the Deck –
http://devilinthedeck.com
. San Francisco 2003 – 2006, Edinburgh Festival 2009 – 2010 – 2013. The award winning and critically acclaimed story of a gambler cursed by a bad Tarot reading.
---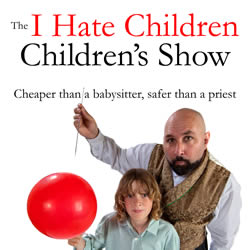 The I Hate Children Children's Show – http://ihatechildren.com
Edinburgh Festival – 2009 – 2014
Christchurch NZ – 2014
Seattle – 2014
San Jose – 2014
San Francisco 2014
---
THE BRIGHT RIVER – A mass transit tour of the afterlife
Written and performed by Tim Barsky featuring Kevin Carnes (Broun Fellinis) – drum set and samples Alex Kelly (Mark Growden band) – cello and electronics Carlos Aguirre (Felonious) – beatbox and live looping
Directed by: Jessica Heidt Set Design: Mellie Katakalos Lighting Design: Heather Basarab Costume Design: Rachel Hospodar/Medium Reality Music Director: Jessica Ivry David Gluk: General Manager
"Hop a subway to a restless hip-hop underworld…. A curious and often transfixing amalgam of Jewish, Greek and other folklore, film noir narrative, adventures in mass transit and riveting, beatbox-driven rhythms." – Robert Hurwitt, San Francisco Chronicle
"Concert" version in the month of December: Climate Theater 285 – 9th Street @ Folsom, San Francisco, 94103 December 3 – December 27, 2009
"Theatrical" version in January and February: Brava Theater Center 2781 24th Street @ York, between Bryant & Potrero, San Francisco, 94110 January 8 – February 20, 2010
Experience the Bright River's San Francisco noir underworld environment before and after the show with unique decor, djs, live music, refreshments and light fare. Socialize early and stay after the show for unique live culture in the heart of the city.